Note: OptimizePress 3.0 is finally here. You can find out more about the new OP3 here.
My name is KM Lee.
I believe what I'm about to share can instantly turn you into a professional online marketer.
Today, the digital marketplace has evolved and I'm so confident that anyone, regardless of their experience and budget, can emulate the success of authority leaders in their industry.
Surprisingly, it only takes 3 Elements to build a successful online business and the rewards are faster, quicker and extremely lucrative than ever before. More on that in a moment.
First, ask yourself this…
» What if you could build sites like world's premier brands that look superb on any device?
» What if you could customize your marketing pages to look the way you want without the need of code, deliver value in a way that will make you an instant authority in your market?
» What if you could deploy or launch pages and marketing sites within minutes not hours?
Now you can do all this in a snap with OptimizePress.

↓ Watch How Flexible & Powerful OptimizePress 3.0 Is ↓
(Don't forget to clear your cookies first before you click on the button)

In 2011, OptimizePress 1.0 was groundbreaking. It set the benchmark in website building. Users all around the world built thousands of sites, generating millions of dollars in revenue.
I myself literally have made BIG profits using solely this tool. Not only have I used it for my own marketing sites – but also for all sorts of professionals and small business marketers.

Here's what some of my earlier clients are saying…
OptimizePress 2.0 & DAP Membership: "Asked pertinent and thought provoking questions and wanted the right info up front to ensure he could complete the job to the best of his ability. Went above and beyond on a technical issue too and sorted it without any complaint. I highly recommend KM."

— Theo, Inclusive Video
Format My Sales Letter To OptimizePress: "Good contractor. Fast and easy to deal with. Highly recommend if you need your sales page done."

— Sterling, Sterling Ventures Marketing
OptimizePress Page Creator Integrator: "I had great experience with KM. He works hard and is very reliable. He goes above and beyond. I realized that the clearer I was with my instructions he would fly through the work. He helped me so much. I will definitely work with him again in the future."

— Dr. Alan, Alan Nathans Family Chiropractic
OptimizePress Membership Design Program: "I woke up and my whole membership site was done as requested, with picture proof and annotations. Very thorough work completed to a great standard. Just what you want from a contractor who you have never met before. Thank you!"

— Rhys, RG Marketing
OptimizePress Landing Page: "In no time my landing and sale pages were beautifully built and even showed me how to edit, when necessary. KM really knows what he's talking about and communicates very well."

— Miria, MK Life Coach
→
I won the best landing page template design in the OP Marketplace contest here.

To build an online business, you need to capture audience, create content, and make sales.
You see, I don't care whether you want to launch a marketing blog or set up a launch funnel consisting of landing page, video content page, sales letter, upsell page, downsell page…
I can BET that you would LOVE to get better conversions. Why?
More conversions means more sales. More sales means more profit. And to increase your conversions, normally you'd have to pay top $$$ for an expensive copywriter, designer, etc.
But what if there's a different way…

5 Reasons Why OptimizePress 3.0 Can Take Your Conversions And Profits To The NEXT LEVEL
Reason #1: Build Jaw-Dropping Pages With Simple Point & Click Interface
Whether you like it or not, how you structure your site, how you project your image, how you showcase your products and information matters.
Your site is the window to the world. The average time you have to impress a visitor is just a few seconds. That's 1… 2… GONE!
With OptimizePress 3.0, you can create awesome design faster than ever using the stunning pre-made templates. More importantly, zero coding needed.
With just a few clicks, you can select, customize and publish your pages so you're ready to capture leads, market your product, and deliver your content.
When the templates don't quite fit your requirements, you can simply use the drag and drop elements from the LiveEditor to add functionality or features to your website in real time.

Reason #2: Fully Mobile Responsive Automatically Adaptive To Any Device
Having "mobile friendly" web pages is the most important thing you need in your business right now. A staggering 84% of US mobile owners have used their devices to shop in past months.
A vast immense of emails you read, web pages you view, or media you interact with is through a mobile device.
With all this mobile use, having a website that is responsive is a requirement not an option.
Every page you create in OptimizePress 3.0 is instantly responsive with no extra work.
With the new LiveEditor, you can customize which content will be shown to mobile visitors.
Your pages will scale down to iPads, tablets, and mobile phones. Meaning no matter what platform your visitors are on, they get to enjoy a seamless experience.

Reason #3: Removing Your Headaches, Frustrations And Technical Challenges
Challenges and frustrations LIMIT progress.
The technical aspect of marketing online is what holds back most people. If the truth be told, it has never been easier to market and sell your product.
You DO NOT need to be an Internet Einstein to connect a profitable market to your solution.
This is a simple process of how money is made: You connect your solution with a hungry audience.
Huge percentage of people failed to achieve success because technology gets in their way: HTML, CSS, APIs, Javascript, Flash, PhotoShop, DreamWeaver, FireWorks, FTP and PHP.
The list goes on and on…
"If you are limited by technology, then what you can achieve is also limited too."
With OptimizePress 3.0, your technology worries are over. There's no need for code or any technical jargon. You can instantly point and click your mouse to edit any content on your page and see the page update as soon as you click on the save button (LiveEditor System).
No more shortcodes, ugly visual editors, or WP editor conflicts.
Now your only limitation is your imagination.

Reason #4: Becoming An Authority In Your Market And Crush Your Competitors
Authority is about the way you share your content, offer your products and showcase your services. It's vital you're seeing as pro, trustworthy, reliable.
When you release a new sales funnel or share a new blog post, you need your audience to react.
All online businesses, whether big or small are about the customer lists: the raving fans, the followers, the evangelists; they comment on the content, interact with your services, buy your products and share their experience on the internet with others.
So you probably thinking authority is for the big boys: the people with deep pockets, design teams and marketing skills. Well today with OptimizePress 3.0, this is just not the case.
» Using a blog is a great way to attract and engage your audience. Now you can create a powerful high-impact blog that is fully customizable to fit your brand image.
» The clean, minimal design of OptimizePress is perfect for converting your visitors into subscribers with the built in opt-in form sidebars and conversion elements.
» When your subscribers have become customers, it's paramount that your content is delivered in an easy-to-use, secure, professional looking membership portal.
» With the new OptimizePress, you can create membership portals and pages in just a few clicks. Not only is it that easy, but they look fantastic. You can even secure your content so that only your customers get access, instantly raising the perceive value of your product.
So now your blogs, membership portals, and marketing pages are all working for you to build your authority and increase your audience. How does that sound to you?

Reason #5: It's Time For You To Get Your Message Out And Make A Difference
The faster and more frequently you get your message in front of your audience, the quicker your business and your income will grow.
Business moves fast. And in the online world, things move at light speed. If you have a target market you want to capture, you need to get a highly converting landing page in front of them.
You need to be able to quickly build and position your business with stunning marketing pages.
It needs to be effortless for you to maximize your ROI and provide secure product delivery. You need to be able to do it so quickly, so effectively, and without stress and frustration.
Whether it's a blog post, landing page, sales page, marketing page, or membership portal, you have to get your message out there right away!
"Taking too long to do something is often the reason why it never gets done."
Today, there's a SOLUTION for you.

Feedback I received for my marketplace templates…
"Your dedication to your templates as well as support you give both publicly and privately to customers are admirable. I look forward to seeing your business growing with your template revenue as an increasing part of that."

— James, OptimizePress CEO
"KM is amazing, and his templates are, too. His designs and layouts are beautiful and sleek. I've received many compliments on how great my site looks! Plus he is very helpful – I've emailed him with a few questions and he got back to me straight away with answers. I'm so grateful for his work!"

— Shelly, Shelly Bullard MFT
"I always buy from KM Lee. The guy churns out quality after quality pages. If you take a look at my website pages, they are professional and they get results, both signup and sales. A very happy customer. Plus he is responsive to any questions you may have about his work. Fully recommend."

— Rowan, Kipeesh Language Learning
"KM is an excellent OP designer. He gets the end user and understand the details required to make the small business leader look professional and positions someone like me as an expert. Affordable and he responses to you – great customer service. Looking forward to purchasing more of his templates."

— Karlyn, Poimena Consulting
"Picked up a copy of KM's template the other week and it's been my go-to template for my profitable online membership business. Thanks KM!"

— Kirk, Option Alpha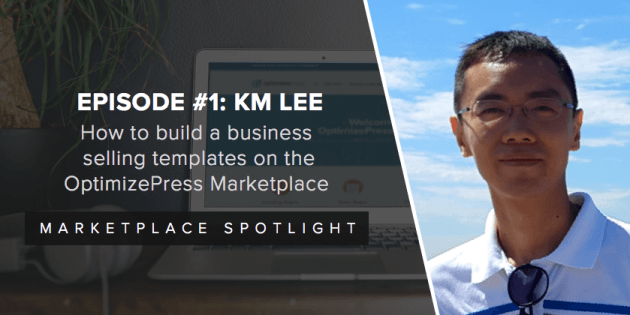 →
I've been featured on the OP Blog as the first marketplace vendor spotlight here.
Everything You Want To Do In Online Marketing Can Now Be Accomplished Faster Than Ever With OP 3.0
Unfortunately, what you've read thus far only scratches the surface about OptimizePress.
If you are already an existing user, I don't need to convince you how great this platform is.
Bottom line is this – If your conversions suck, you are not going to make it in your Internet business. You probably already know that. Or, at least, you have a nagging feeling that you are missing a piece of the puzzle…
However, once you get your hands on this new tool, I know you're at an enormous benefit to almost instantly increase your conversions on marketing pages and make more money!
If you're not earning money yet, then this will be the investment to kick start your cash flow.
So, What's My Agenda?
In Fact, There're Only Three…
Here's The Real Deal:
1) I will earn a commission when you purchase through my referral link, which is excellent. Since I'm incentivized, it enables me to help you do stuff that usually wouldn't be possible.
#) I will build ONE marketing page of your choice for you. It can be a landing page, a sales page, or an opt-in page. (Note: I don't do graphic design. You need to add in your content)
2) I will send you the Kajabi style, ultraclean, elegant, & OP 2.0 sales style .zip templates.
3) The last one is accountability. I will add you as my personal contact via Email, and you may ask for my help anytime in the first 60 days whenever you face a technical challenge with OptimizePress 3.0. (Now this is a Professional Service, which is worthwhile to you)
That's it.
No bonuses worth thousands of dollars, no big box of information for you to access, just something I believe that will help you get closer to the business goals you want to obtain.
So if you're ready to invest right away, just go ahead and click on the green button now!
(Don't forget to clear your cookies first before you click on the button)


Brought To You By:

P.S. – Still hesitating? While I'd be glad if you get it through me, but if you're unsure whether to purchase it through me or not, I'd still rather you to get it from someone… anyone… then NOT getting at all. OptimizePress is Evergreen, you will always need it in your marketing.
P.P.S. – If you've already purchased it through me, GREAT! You will then have to email me with your Real Name and Email Address, and forward Your Receipt from your purchase.
Note: OptimizePress 3.0 is finally here. You can find out more about the new OP3 here.