You've heard all about internet entrepreneurs who have made it possible to build highly profitable businesses on the internet. But other than monetary benefits, did you know Freedom is actually the No.1 reason why people choose to start their business online?
I heard a TED talk lately by Natalie Sisson – The Surprising Truth About Freedom. She spoke about how she designed a life of freedom by building multiple 6-figure business online. In her talk, she shared the 3 stages of freedom which I find them quite practical:
Stage 1: Free your mind from the conventional ways of living
Stage 2: Do work you love that supports your ideal lifestyle
Stage 3: Define your own version of freedom and live it
In this post, I'm going to elaborate more on the 3 4 stages of freedom one can achieve by running a profitable business online. This will give the aspiring internet entrepreneurs a better understanding of whether online business is something worth venturing into or not.
Note: The keyword here is profitable – meaning you actually make enough money from your business to support the lifestyle you desire without having to work for another j-o-b.
#1 You Can Work When You Want
Have you ever heard that when you work online you get the chance to work whenever you want? This is certainly true when your business is profitable and running successfully. In fact, as you are starting out your business, you can already work whenever you want.
If you want to work in the middle of the night, you can do that without anyone knowing. If you prefer to stick to the regular 9-5 schedule, you can – the choice is totally up to you.
For me, I can wake up when I want in the morning, and I can work when I want to work. I don't report to anyone who stipulates when I must do the tasks. Clients will accommodate to your working schedule as long as you get the work done by deadlines you agree on.
And when you sell products online, especially digital products, you get true time leverage. You disconnect your income from the amount of time you work. By this I mean, you can make more money without working more hours. You still have to put in the work, but the flexibilty is amazing. It really is a smart way to work and you get full control over your life.
#2 You Can Work Where You Want
Working plus traveling abroad while co-working and co-living is a popular trend right now for many tech-savvy digital nomads. You can set up your base in a foreign country and operate your online business from there (read the Top 10 cities for remote working here).
However, if you don't want to travel, you can bring your laptop and work in a coffee shop (I'm writing this in Starbucks). There's no need for you to be stuck in the same old place.
While doing all this, your clients are not limited by your location. You can work with people on the other side of the world, without too many hassles. The main challenge will be time zone differences, but there are always ways to work around the minor stuff.
Wait, so how can you communicate with clients around the world? Well, you have access to Skype, Email, or even Basecamp. Sending files is possible through apps like Dropbox and Trello. You can easily reach out to potential clients around the world too.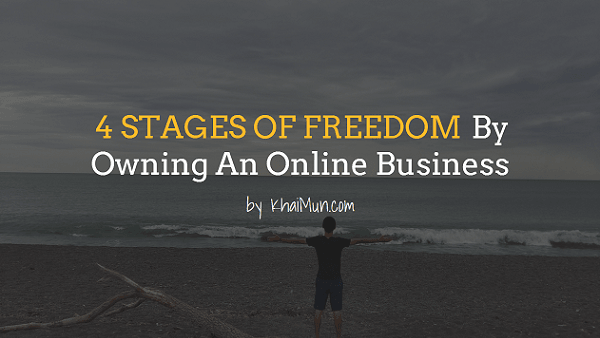 #3 You Can Choose Who You Work With
You don't have to work with that grumpy boss who is breathing down your neck, or that snotty manager who doesn't appreciate all the hard work you have put in. You have the freedom to choose who you work with and get away from working for the wrong people.
You have the opportunity to discuss with clients beforehand to understand the project scope. If something doesn't feel right, you can take a step back and say "No thanks!"
As your reputation grows, you will find that clients will come to you instead of you going after them; and when you attract the right clients into your business, your life gets a lot more enjoyable. Who knows some of them will end up becoming your very best friends.
When you sell your own or other people's digital products, you have the freedom to get away from working with clients. If you want to take things further, you can build systems that do most of the work on autopilot, so that you can focus on doing things that matter.
#4 You Can Do The Work That You Love
This is what I call the freedom of purpose. What do you want your life to really look like? By having a profitable online business, you get to do the things that you were born to do. You find a reason for living and get to become the person you have always wanted to be.
If you want to contribute to your favorite charity organization, you can do that. If starting a new cafe has been on your mind for some time, you can do that too. What you do can be in a field of your interest. The only thing that is stopping you from moving forward is You.
Not to mention while running a profitable online business, you also have the freedom to get out there and do the things you desire in your own time. Remember the freedom of working when and where you want? All you have to do is sit down and really think about your purpose in life. What is it that you really want to get from your years on this planet?
You say you don't know what you want in life? Running a profitable online business will eventually help you find it. You will get the time you need to discover yourself. Along the way, you will encounter like-minded people who can inspire you to go after your dreams.
So, What's Your Definition Of Freedom?
For me, I want to have the ability to travel when I want, where I want, with whomever I want. There is so much to explore out there, and I don't want to spend the rest of my life stuck in one part of the world. I want to explore life's possibilities with no stone unturned.
Your definition of freedom is totally unique to you. There is literally nothing you can't do once you achieve the 4 stages of freedom above – whether it is to travel to new places, go into new ventures, or do something fun, there are always possibilities waiting for you.